Kinect
Microsoft's Kinect is an add-on peripheral for the Xbox 360 controller that allows the gamer to control the Xbox and play some titles without needing to use a game controller. Additionally, it also has voice recognition features, allowing a user to navigate through the Dashboard on an Xbox by calling out commands. The motion control system was first unveiled by Microsoft at E3 in 2009, when it was called Project Natal (after the city of Natal in Brazil).

Kinect is based on software originally developed by Microsoft Corp. and on camera technology developed by PrimeSense. Kinect works with any Xbox 360 console, with the only difference being that it requires a separate power supply unit when used with non-slim Xbox 360 consoles. Kinect has been described as "the new Xbox" by Microsoft CEO Steve Ballmer.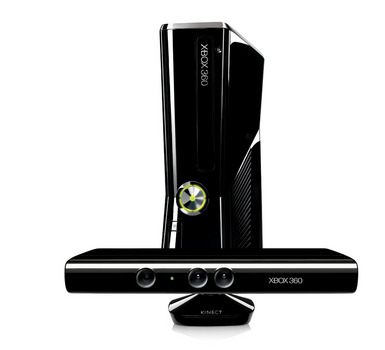 The Kinect device itself as pictured above is desgiend to be placed underneath the display showing the Xbox 360 content. The horizontal bar features a motorized pivot, RGB camera, depth sensor and multi-array microphone. The depth sensor consists of a monochrome CMOS sensor combined with an infrared projector, allowing the device to interpret 3D environments in any ambient light. The device is capable of automatic calibration based on the surroundings and the physical movements of the player.
Using Kinect, plays can control the Dashboard by using hand motions and vocal orders. Additionally, Kinect works with Windows Live Messenger on Xbox 360 for video chatting. As the play moves around the room, the camera will follow to keep them in focus as long as possible. The Kinect sensor outputs an RGB video stream featuuring 32-bit color at a VGA resolution and frame rate of 30Hz. The monochrome video stream used for depth sensing is output at 16-bit QVGA resolution.
The title for the system was revealed at a pre E3 event called the
"World Premiere 'Project Natal' for the Xbox 360 Experience"
in 2010. The name comes from the words
Kinetic
and
Connect
. The launch date for North America was revealed at the time; November 4, 2010. Since then, Kinect has been priced at $149.99.
Read:
E3 2010: Kinect for Xbox 360 available in November
Synonyms