Steam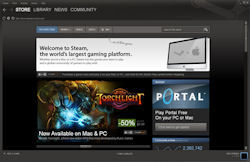 Steam is a multi-platform gaming system developed by Valve.

It is a full ecosystem dedicated to the distribution and online use of games made by both large gaming studios and publishers, and also by small independent gaming firms. Steam also distributes some non-gaming software, but its use is primarily for video games.

It boasts more than 50 million users as of 2012, and has seen up to 5 million gamers use the service simultaneously.

Steam powers online play and offers Digital Rights Management, networking, in-game achievements and micro-transactions through the Steamworks application programming interface.

Steam was originally developed to run on Microsoft Windows, but has since been ported to Mac OS X. There is also a limited Steam client for the PlayStation 3 (PS3) console. In the mobile space, there are Steam clients available for iOS and Android smartphones and tablets.

In October 2012, Valve began beta testing for a Steam client that runs on Linux operating systems.