HTC Sense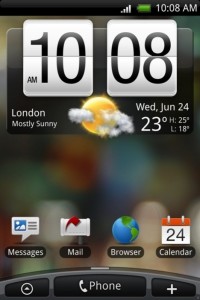 The
Android
GUI
created by HTC in 2009.
Most new HTC Android phones and tablet will come with HTC Sense installed as a user interface layer on top of the stock Android operating system.
The latest Sense is version 3.5 which is being rolled out now (as of September 2011).
In the summer of 2009, HTC announced the Hero, the first device to run Sense, Sense 1.0.
Special apps and widgets that come exclusively with Sense are HTC Hub, HTC Likes, HTC Watch, Mirror, Peep (for Twitter), Weather, Reader and Flashlight.
Current devices running Sense
HTC Desire HD
HTC Desire S
HTC Desire Z
HTC EVO 3D
HTC EVO 4G+
HTC EVO View 4G
HTC Flyer (tablet)
HTC Flyer 4G (tablet)
HTC Incredible S
HTC Inspire 4G
HTC Inspire HD
HTC Panache
HTC Salsa
HTC Sensation 4G
HTC Status
HTC Vigor
HTC Wildfire S
Synonyms