K Computer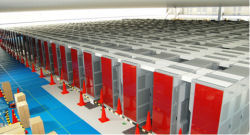 The K Computer is a Japanese supercomputer that topped the TOP500 list of supercomputers in June 2011.

The K Computer was built by Fujitsu and RIKEN, and was clocked by the LINPACK benchmark program at 8.162 petaflops. It was not yet completed at the time and is project to break the 10 peraflops barrier. 1 petaflop == 1 quadrillion floating-point operations per second.

The system is powered by 68,554 central processing units across 672 computer racks.

Its intended use is scientific research, having being developed as part of the High-Performance Computing Infrastructure (HPCI) initiative led by Japan's Ministry of Education, Culture, Sports, Science and Technology (MEXT).

The K Computer's recognition as the world's fastest supercomputer in the 37th semi-annual TOP500 list represents the first time since 2004 that a Japanese supercomputer topped the list.

Its development was hailed as a great achievement at the time, as it was under contruction during the devastating earthquake and tsunami that struck Japan in March, 2011.