Bada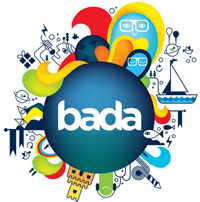 Samsung's own smartphone OS. Bada means "ocean" or "sea" in Korean.

The first Bada-based phone was the Wave S8500 and at the same time Gameloft, Twitter, EA and others expressed support for the new OS, giving at least some developer support.

In May 2010, the Bada SDK was released for developers and a final version 1.0 was released in August. Exactly one year later, the version 2.0 SDK was released. Bada 3.0 is expected by next May.

Samsung Apps, the apps platform for Bada has 3000 apps, 70 percent being free.

The latest Bada device is the Samsung Wave 3 which features a 1.4GHz processor, a 4" AMOLED screen, Bada 2.0 and a 5MP camera.

Despite relatively small marketing, Samsung has shipped 4.5 million Bada devices, more than Windows Phone 7.
Synonyms