Unified EFI Forum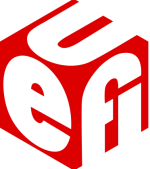 The Unified EFI Forum is a non-profit collaborative trade organization with the responsibility of managing the Unified Extensible Firmware Interface (UEFI) specification. The group promotes the adoption of UEFI has a suitable replacement for the basic input/output system (BIOS) to modernize the booting process for computers.

The board of directors includes representatives from eleven top electronics companies including..
AMD
American Megatrends Inc.
Apple Inc.
Dell
Hewlett-Packard
IBM
Insyde
Intel
Lenovo
Microsoft
Pheonix Technologies
The Forum also defines specifications and is responsible for Self-Certification Test suites to define conformance to the specifications.
The Unified EFI Forum is responsible for the UEFI interface, but Intel still owns the EFI 1.10 specification from which UEFI has evolved.