CMPDA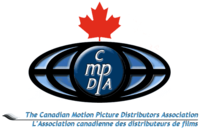 The Canadian Motion Picture Distributors Association or CMPDA is a film industry trade group similar to the RIAA which represents the big movie studios in Canada for movies, TV and DVDs. The group is the Canadian branch of the MPAA and has the same members.

Just like the MPAA, the organization lobbies to the federal government to advance their agendas, and is also an anti-piracy outfit. They also administer the Canadian Home Video Rating System..

Members:
* Buena Vista Distribution
* Columbia Pictures
* Metro-Goldwyn-Mayer
* Paramount Pictures
* 20th Century Fox
* Universal Studios
* Warner Bros.

Synonyms
Canadian Motion Picture Distributors Association
Related glossary terms