ATI Eyefinity
ATI Eyefinity is a technology from Advanced Micro Device's ATI. ATI Eyefinity technology can support up to 6 displays using a single enabled ATI Radeon graphics card with Windows Vista or Windows 7 operating systems - the number of displays may vary by board design and so a consumer really should confirm exact specifications with the applicable manufacturer before buying the card.

ATI Eyefinity technology works with games that support non-standard aspect ratios, which is required for panning across multiple displays. To enable more than two displays, additional panels with native DisplayPort connectors, and/or certified DisplayPort adapters to convert your monitor's native input to your cards DisplayPort or Mini-DisplayPort connectors, are required.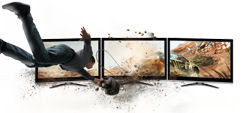 Eyefinity is being offered as a tool for gamers to enhance their experience in the age of High-definition video gaming.