IMRO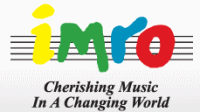 The Irish Music Rights Organization (IMRO) represents songwriters, composers and music publishers in Ireland. They collect the licence fee from and issues licences to those wishing to play copyrighted music in public settings and in online environments.

All businesses, broadcasters and public venues must acquire this licence if they are to play copyrighted music. The money collected by IMRO is then distributed to the relevant parties responsible for the creation of the music.

These earnings made by the copyright owners are called public performance royalties.

IMRO's tariffs are set based on consultations with the various bodies that represent different sections of the public music users in Ireland.

This has been successful as all of the bodies representing the main music users such as state broadcaster Radio Teilifís Éireann (RTE), the Association of Independent Radio Stations, Restaurant Owners Association of Ireland, the Irish Hotels Federation and the Vintners' Federation of Ireland have all agreed tariffs with IMRO.

The Copyright and Related Rights Act 2000 was signed into law in July 2000. IMRO assisted the Irish Government in the drafting of this act and also played a part in getting the European Comission to lodge a complaint against the U.S. authorities in relation to inadequate copyright protection.
Synonyms
Irish Music Rights Organization