PSX DVR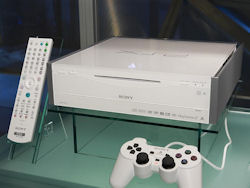 The PSX DVR is a digital video recorder and home entertainment hub developed by Sony and launched in the Japanese market.

The PSX DVR integrated PlayStation and PlayStation 2 video game technology right into the box. It was launched in December in 2003 but was never launched outside of the Japanese territory. Due to its high-cost, the product failed to gain significant demand in the market.

The device was a fully functional digital video recorder, touting composite, S-Video and RF inputs. It included PS2 hardware, such as the emotion engine, graphics synthesizer and processor for PS2 and PS1 game support. It supported online play features for games by way of an internal broadband adapter.

The back of the device included two ports for DualShock controllers, although no DualShock controller came packed with the product (though a special edition, ceramic-white DualShock 2 that connected via USB was released separately.)

After the PSP was released, it became possible to connect the PSP to the PSX DVR via USB in order to share photos or videos with the device. Software was included that allowed for some video, audio and photo editing tasks to be carried out.

The PSX DVR had one other notable feature too, and that was its use of the XrossMediaBar user interface, which went on to the used with the PlayStation Portable, PlayStation 3 and many other Sony products in the consumer electronics market.