Electronic Industries Alliance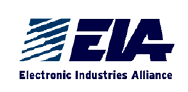 The Electronic Industries Alliance (EIA) is a national trade organization in the U.S.A. The alliance is composed of a partnership between electronic and high-tech associations and companies whose mission is promoting the market development and competitiveness of the U.S. high-tech industry through domestic and international policy efforts. EIA represents the Alliance on issues that the entire industry agrees are imperative to the success of high technology in the U.S.

EIA is accredited by ANSI to help develop standards on electronic components, consumer electronics, electronic information, telecommunications, and Internet security.

The associations that make up the EIA are:


CEA – The Consumer Electronics Association


ECA – The Electronic Components, Assemblies, and Materials Association


GEIA – The Government Electronics and Information Technology Association


JEDEC – The JEDEC Solid State Technology division, formerly Joint Electron Devices Engineering Councils


TIA – The Telecommunications Industry Association
Prior to 1957, EIA was known as the Radio Electronics Television Manufacturing Association (RETMA).
Synonyms