MMCplus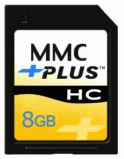 MMCplus was introduced in 2005. The cards improve the running speeds of MultiMediaCard's original 20MHz to 26MHz and 52MHz, which is also faster than Secure Digital (SD) cards. Along with MMCmobile, MMCplus is v4 of the MultiMediaCard (MMC) standards.

MMCplus cards are backwards-compatible with older MultiMediaCard hardware but in order to use the new features provided by MMCplus, you need to get updated hardware and software.

MMC products also are marketed in a variety of different brands.

RS-MMC --> Stands for Reduced-Size MultiMediaCard, introduced in 2004 with a smaller form factor.

DV-MMC --> Stands for Dual-Voltage MultiMediaCard, a substantial change to MMC that introduced dual-voltage cards.

MultiMediaCard --> Original MMC card.

MMCmobile --> Introduced in 2005, MMCmobile runs at higher speeds. Also marketed as "MMCplus".

MMCmicro --> Similar to the microSD format, this small form factor MMC card is thinner and smaller than RS-MMC.

miCard --> Introduced in 2007, this version of the card technically has a maximum capacity of 2 Terabytes (2TB).

SecureMMC --> SecureMMC is to provide a secure removable storage to secure applications using as MMC card.
Synonyms