NVIDIA Optimus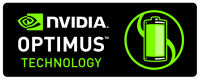 NVIDIA Optimus is technology aimed at notebook PCs that can automatically switch between graphics chips based on the requirements at the time.

High performance graphics are available for notebook PCs, driving video games and 3D content. Having high performance graphics can be a problem however when it comes to battery life. For this reason, some notebooks allow you to choose between an onboard integrated graphics chip and the high performance GPU (often in BIOS.)

With NVIDIA Optimus, this user interaction is not necessary at all. The system can detect when a user does not require the high performance GPU and can then shut it off and redirect (using the driver) graphics commands to the integrated graphics chip instead. It can then later turn the high-performance GPU back on if it is necessary.

Notebook manufacturer Lenovo claimed that NVIDIA Optimus built into some of its ThinkPad products resulted in a 33 percent longer battery life under normal usage.

NVIDIA Optimus is only supported by Windows 7 and there is no plan to add support to any other OS currently (March, 2011).