Sixaxis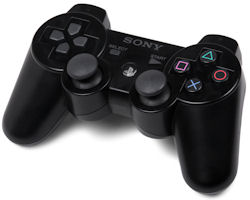 Sixaxis is the name given to the controller that first shipped with the Sony PlayStation 3 (PS3) games console when it launched in 2006.

Sixaxis is similar in appearance to a DualShock controller. It got its name from the motion sensitive technology used with the controller, referring to the six axis' of directional movement that could be tracked. It can sense both rotational orientation and translational acceleration along all three dimensions.

Unlike its DualShock predecessors, the Sixaxis controller had no vibration capabilities at all. At the time, Sony executives explained that there was concerns that vibration would interfere with the motion control technology used with the controller. These comments were disputed by many.

The speculation was that a legal battle between Sony and Immersion Corporation (successfully sued Sony for patent infringement) was the real reason why the Sixaxis controller dropped the vibration features.

Sixaxis controllers are powered by a removable Lithium-ion battery, charged via USB cable. It boasted up to 30 hours of gameplay on a full charge. Power can be drawn from the PS3 through USB when the battery is empty, allowing play and charge.

It uses Bluetooth wireless connectivity to communicate with the PlayStation 3 (PS3) console. Up to 7 controllers can be used by the PS3 at any given time. Four LED lights on the top of the Sixaxis controller to distinguish different controllers from each other during gameplay.

If there are more than four players, then two LED lights would be used, where the sum of their number would represent the number of the controller. For example, if the second and fourth LED lights are illuminated at the same time, then its controller number six.

The Sixaxis controller can also be used with the PSPGo, but requires a PlayStation 3 (PS3) console to sync with the handheld.

The Sixaxis controller is no longer available to buy, having been replaced by the DualShock 3 controller in 2008.