Scareware
Scareware prefers to a type of software that intentionally attempts to "scare" a computer user into carrying out a task, usually with utterly false information. One type of scareware is rogue anti-virus and anti-malware suites that are usually delivered to users' computers via malware and botnets. They alert the user of multiple security threats on a computer and then would give them the option to perform a system scan.

The system scan would bring up phony "critical" results and then give the user the option to remove the malware. When the user attempts to remove the malware, that is usually when they are prompted to buy a "full version" of the software. Clicking on a web link then would take the user to a fake commercial website and to an order form.

A user who is conned into paying for the useless software may have more to worry about than the lost "license fee" which is usually around $30. Instead, the user may have given away information that can be used for identity theft or fraud purposes. Users who are conned by rogue anti-virus peddlers should immediately report it to their credit card company and get it on record.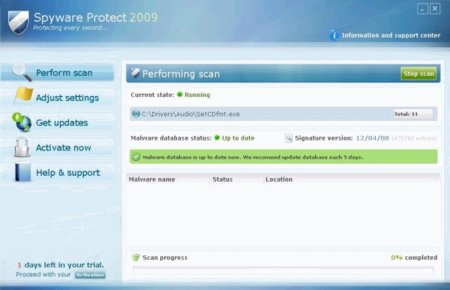 Spyware Protect 2009 Scareware
Scareware variants have exploded in the last few years due to the large profits it can net for cyber criminals, not just from license fees but from the sale of names and addresses, e-mail address, phone numbers, credit card numbers and other information a user might have been conned into handing over.
Some fake scareware packages are WinFixer, WinAntivirus, DriveCleaner, ErrorSafe, and XP Antivirus. One particular high-profile case was made against
Branch Software
and
Alpha Red
from Texas over the product
"Registry Cleaner XP"
. Both companies were sued by
Microsoft
for distributing scareware. The software incorrectly reported the registry as corrupted or damaged and then prompted the user to pay for a $40 license to fix the problem.
Scareware is generally delivered to users' PCs by malware that has exploited a weakness in the users software - or has been accidentally installed by the user from an e-mail, social networking message or instant messaging attachment.
Conficker E
is known to install the
Spy Protect 2009
scareware package, while
SmitFraud
is often associated with
SpySherrif
- fake anti-spyware that can cause users considerable interruption and anxiety.