HbbTV
HbbTV stands for Hybrid Broadcast Broadband TV.

In a nutshell, HbbTV is a relatively new industry standard that combines traditional broadcast television services with television services that are delivered over a broadband connection. HbbTV also provides solutions for Smart TVs and connected TVs, and also set-top boxes that can be connected to the Internet.

HbbTV acknowledges the changes in how video content is delivered to consumers and aggregated. It aims to set industry-wide neutral standards to make sure that firms can prodice HbbTV-ready devices and services that are fully compliant across the industry.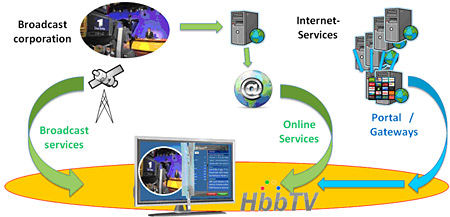 The HbbTV specification, currently v1.1.1.1, which was approved by the European Telecommunications Standards Institute (ETSI) in 2010, is based on existing standards and web technologies including those developed by the Open IPTV Forum, the Consumer Electronics Association, DVB and W3C.