IRMA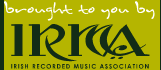 IRMA stands for Irish Recorded Music Association. The IRMA represents record companies in the Republic of Ireland. Its 51 member companies (September 07) include many independent Irish companies and the "big four" record labels (or the irish arm of) EMI, Sony, Universal and Warner (the latter three are board members.) Other board members include, RMG Chart Entertainment Ltd., Whirling Discs Ltd. and Pinnacle Records.

Like its equivalent in the UK, the British Phonographic Industry (BPI) group, or the Recording Industry Association of America (RIAA) in the United States, the IRMA has taken an offensive stance against file sharing on P2P networks of music subject to the copyright of its members. How cases against file sharers in the country have turned out is unclear at this time. The group is also dedicated to fighting all forms of piracy in the country.

Away from fighting piracy, the IRMA Honours program acknowledges the achievements of artists and awards them. The group also has a stake ion ChartTrack that maintains the music charts in the country.

You can read about the IRMA's first victory against file sharing in July 2005 at: https://www.afterdawn.com/news/archive/6639.cfm

Click here to see more news concerning IRMA.
Synonyms
Irish Recorded Music Association
Related glossary terms