SDIO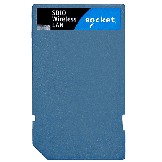 SDIO stands for Secure Digital Input Output. Compatible SD slots in notebooks, PCs and other devices can be used for more devices than just flash memory-based SD cards. The picture accompanying this definition, for example, is a SDIO WiFi card, offering wireless networking capabilities on a device that can be plugged into a compatible SD slot and used. This can add potential for a great deal of additional features and services to hardware that contains compatible SD slots.

On the market already are SDIO solutions for wireless networking, GPS systems, Bluetooth adapters, Modems, TV and Radio tuners, digital cameras, Ethernet adapters and much more, and it's possible more products will be developed for SDIO as time goes on. SDIO cards are fully compatible with SD Card host controllers and you cannot damage any normal SD slot by inserting an SDIO card.

There are a variety of Secure Digital (SD) products available..

Secure Digital (SD) --> Original SD card offering capacities up to 8GB currently.

miniSD --> A smaller form-factor version of the original SD card.

microSD --> Currently the smallest flash memory card on the market.

miniSDHC --> High Capacity version of miniSD card.

microSDHC --> High Capacity version of microSD card.

SD plus --> A form of SD card developed by SanDisk.with USB additions.

Eye-Fi --> An SD card with built in Wifi capabilities of its own.

Gruvi --> A form of SD card developed for content distribution by SanDisk.
Synonyms
Secure Digital Input Output