Eye-Fi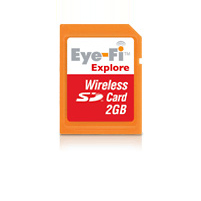 An Eye-Fi card is truly an innovative creation. It is basically a standard Secure Digital (SD) card with a built in addition of wireless capability. The card is compatible with the 802.11g standard and supports WEP 40/104/128, WPA-PSK and WPA2-PSK wireless security systems. It is designed specifically for a digital camera. It's job is to automatically join the wirless network in its owner's home and upload photos stored on the SD card to the computer. With supporting software from Eye Fi Inc. it will even go one step further by automatically uploading your pictures to your FlickR photo sharing account.

It comes with 2GB maximum capacity. The most expensive product available currently on Eye Fi's website boasts a range of 90+ feet outdoors and 45+ feet indoors. It uses the power from the digital camera to drive the WiFi service. The cards are compatible with both the Windows and Macintosh operating systems. It will deliver photos only to the folder that you specify (and will arrange them in timestamped folders) so it won't accidentally misplace files or try to send out your files to somebody elses computer.

There are a variety of Secure Digital (SD) products available..

Secure Digital (SD) --> Original SD card offering capacities up to 8GB currently.

miniSD --> A smaller form-factor version of the original SD card.

microSD --> Currently the smallest flash memory card on the market.

miniSDHC --> High Capacity version of miniSD card.

microSDHC --> High Capacity version of microSD card.

SD plus --> A form of SD card developed by SanDisk.with USB additions.

Eye-Fi --> An SD card with built in Wifi capabilities of its own.

Gruvi --> A form of SD card developed for content distribution by SanDisk.