webOS
webOS is mobile operating system software originally developed by Palm, but now owned by HP. The software is proprietary, as opposed to Android, which is an open source mobile operating system with development spearheaded by Google.

webOS was developed to replace the legacy Palm OS, and to provide support for "Web 2.0" functionality. The first handset to come packed with webOS was the Palm Pre in June 2009, carried by Sprint in the United States. Later, the Palm Pixi, Plus and Pre 2 also featured the webOS operating system.

The OS interface is built for a multi-touch device, accepting gestures from the user to manipulate and control the OS and applications. The software can feature a virtual keyboard, but the Pre handset had a slideout keyboard anyway.

It supports multitasking, powered by the use of "cards". Running applications are switched between using a quick flicking gesture across the screen.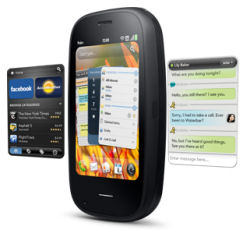 A webOS feature,
Synergy
, is used to integrate information from multiple sources including email accounts and social networking sites. All of this content is then displayed in one location for the user instead of having to retrieve all of the information separately.
It's web browser (simply called
"Web"
) is based on the Webkit layout engine, and renders pages in either landscape or portrait based on the way the user is holding the device.