Connectivity Kit V3
The Connectivity Kit V3 is a very popular product from Team Xecuter used to connect peripherals from an Xbox 360 console to a computer. The CK3, as its called, facilitates a power connection for an Xbox 360 drive using a standard Molex connector. It also has options to force an Hitachi drive into Mode B to make it visible in the Windows operating system.

The CK3 is an essential tool for flashing. Using add-on products for it, the CK3 helps to dump keys from all known drives (Feb 2010) used with the Xbox 360 console, meaning any drive can be replaced with any other drive as long as software is avilable to modify firmware files to make the drive appear original to the Xbox 360 unit.

The legality of the CK3 product is not really in question. However, the CK3 is used a lot to flash hacked firmware that can make a backup game on a DVD+R DL disc boot up as an original Xbox 360 disc. The CK3 cannot do this "out of the box" however, it can only be used as a means to connect the drive and dump the all-important DVD Key. Third-party software has been developed to facilitate with making and flashing hacked firmware to a drive.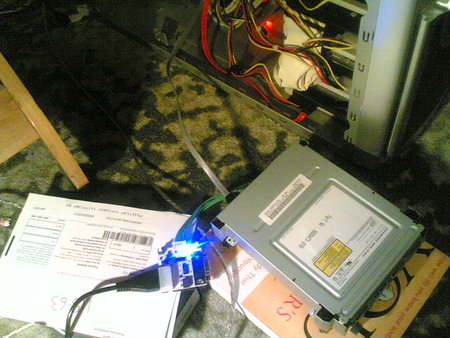 CK3 connecting Samsung Xbox 360 drive to PC
The CK3 kit also comes with a useful, and popular HDD adapter. In order to access the Xbox 360 HDD in Windows, a user would have to open the HDD bay at the top of the console and remove the 2.5-inch
SATA
hard drive, which is quite tedious. Then, software called Xplorer 360 is used to read the file system of the Xbox 360 drive and read/write to it.
With the CK3 kit, a handy adapter can be used to power the drive and connect it to the PC motherboard without having to open the HDD bay and break any warranty.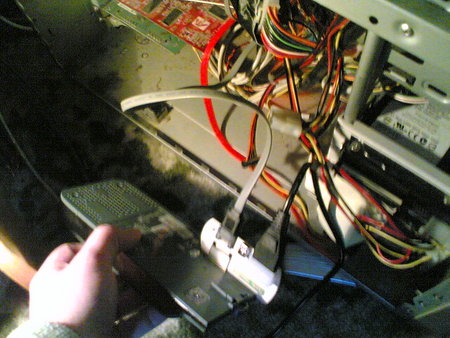 Xecuter CK3 HDD Adapter connects Xbox 360 hard drive to PC
Synonyms