HbbTV Consortium
The HbbTV Consortium is a group dedicated to developing the HbbTV standard (HbbTV stands for Hybrid Broadcast Broadband TV).

It aims to provide an alternative to proprietary technologies and deliver and open platform for broadcasters to deliver on-demand services to end users.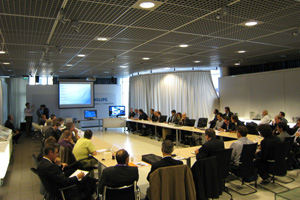 Its members consist of television broadcasters and consumer electronics firms. he steering group members include ANT Software Limited, EBU (European Broadcasting Union), France Televisions, Institut für Rundfunktechnik GmbH, OpenTV Inc, Koninklijke Philips Electronics N.V Inc., Samsung, SES ASTRA S.A, Sony Corporation and Television Francaise 1 - TF1.
For more information on HbbTV, read about it here:
HbbTV Definition
.