Unlicensed Mobile Access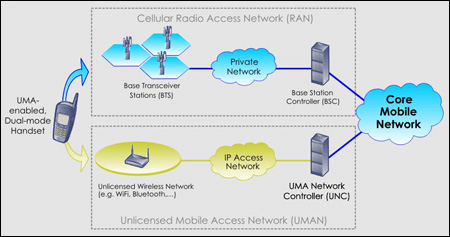 Unlicensed Mobile Access, or UMA, is a technology that allows GSM phones to make phone calls over "unlicensed spectrum" such as Wi-Fi and Bluetooth.

Phones with such ability are called dual-mode mobile handsets.

By using UMA, subscribers have the ability to make high-quality calls from areas where service may be spotty but in which they Wi-Fi, such as the office or open networks like restaurants.

UMA open specs are available here: Specs

The diagram here explains how the tech works:

As an example, smartphone owners with dual-mode phones head into the office which has spotty cellular service but has fast secure Wi-Fi. The phone connects to this unlicensed spectrum and "the handset contacts the UMA Network Controller (UNC) over the broadband IP access network to be authenticated and authorized to access GSM voice and GPRS data services via the unlicensed wireless network."

From there, all voice and data traffic are routed to the phone via the Wi-Fi or Bluetooth, etc.

When leaving the office, the phone re-connects to the cellular networks.

List of handset makers and carriers that use UMA
Alcatel
British Telecom
Cingular
Ericsson
Kineto Wireless
Motorola
Nokia
Nortel Networks
O2
Research in Motion
Rogers Wireless
Siemens
Sony Ericsson
T-Mobile US
Synonyms