Siri
Siri is an application built for Apple Inc.'s iPhone smartphone.

Originally developed by Siri Inc., the software was intended to be available for iOS devices (iPhone, iPad, iPod Touch), Android handsets and RIM's Blackberry devices.

In April 2010, Apple acquired Siri Inc. and all production for ports for non-iOS products was halted. Siri was available as an app from the Apple App Store until the unveiling of the iPhone 4S in October 2011.

Siri is an electronic personal assistant that takes commands in natural human language. It can retrieve information (such as nearby hotels, stocks or the weather forecast) or it can assist with personal planning, such as scheduling meetings and setting reminders.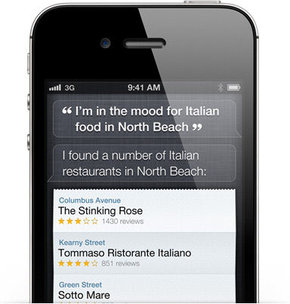 Apple removed Siri from the App Store after the unveiling of the iPhone 4S, and marketed as the killer app exclusive to that iPhone iteration. However, since the iPhone 4S was releases, there have been some workarounds to get Siri working on older versions of the iPhone, along with the iPod Touch and iPad, but these workarounds can be quite complicated.
Siri gained considerable attention for many reasons. It was acclaimed for its accuracy of responses (particularly in the United States) while also criticized for some information that seemed to have been deliberately left out (such as the location of medical facilities that carry out abortions.) Siri also sparked viral videos and pictures where iPhone 4S users asked it awkward or embarrassing questions, hoping to get it to give amusing answers.