CEA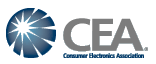 The Consumer Electronics Association (CEA) is a standards and trade organization for the consumer electronics industry in the United States. They represent more than 2000 companies in the industry giving them access to information, exposure and connections.

CEA is the leading source for market research in consumer electronics with over 75 years of research experience, offering insight and guidance to its members on consumer trends and aims to develop the Consumer Electronics industry by developing key standards.

Education and certification is offered by CEA to its members in various fields to increase and update their expertise, such as its nationally recognised, owned and operated MECP (Mobile Electronics Certified Professional) certification.

The association lends a voice to the CE industry by lobbying on behalf of and providing policy information and news to its members and industry players. They launched the "Innovation Movement", a program to engage the general public and raise awareness of the importance of technological innovation.

Every year CEA hosts the world's largest consumer technology tradeshow, the International Consumer Electronic Show (CES), bringing together buyers. manufacturers and distributors from around the world to introduce and exhibit new products as well as network ideas and information.

CEA members attending CES receive benefits such as discounted exhibition space.
Synonyms
Consumer Electronics Association