LiveArea
LiveArea is a multi-touch user-interface used with Sony's PlayStation Vita handheld console.

The LiveArea UI takes advantage of the 5-inch organic light-emitting diode (OLED) screen on the PlayStation Vita to provide a multi-touch interface for the user. The Vita's strong connectivity options (Wi-Fi, Bluetooth and 3G) also is used to implement social networking and entertainment right into the UI of the handheld console.

LiveArea lets users easily hop between different features and functionality of the PlayStation Vita and extended networking functionality. LiveArea includes Trophy support, which is sought after by users of Sony's PlayStaion Network.

Reviewers of the LiveArea interface have praised it for how speedy it is, likening it to launching applications on high-end smartphones.

Utilizing the always-connected nature of a 3G device, LiveArea includes live message boards that users can interact with. It also features location-based features which can be used in a number of ways to enhance the experience of the console, such as allowing users to see their friends' locations and what games they are playing at any given time.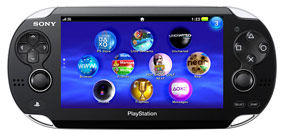 A
"Near"
application uses the location features to display a map of your location, overlayed with Avatars of other people playing Vita games nearby. If a user is playing a game that you have not seen before, you can instantly jump straight to the PlayStation Store to get it through the Near application.
LiveArea replaces the infamous XrossMediaBar (XMB) user interface used with the PSX DVR, PlayStation Portable, PlayStation 3 (PS3) and a number of Sony branded consumer electronics products such as BRAVIA HDTVs, Blu-ray players and more. The biggest change between both is the multi-touch nature of LiveArea, as opposed to the horizontal "category" icon navigation and vertical options offered by the XMB interface.