XrossMediaBar
XrossMediaBar - or XMB - is a user-interface used with a variety of Sony electronics products. The first known use of XMB was with the unsuccessful PSX DVR product launched in Japan in 2003.

The first widely used successful product to employ XMB was the PlayStation Portable (PSP) handheld games console. Later on, it was implemented into the Sony PlayStation 3 (PS3) home console, and is also used with a variety of Sony BRAVIA HDTVs, Blu-ray disc players and many more Sony products.

XMB displays icons horizontally across the screen that be seen as categories, or top-level options. Navigation moves the icons forward or back across the screen, highlighting just one at a time, as opposed to using any kind of pointer to select an option. The left and right buttons of the D-Pad on the PSP were used to navigate between these top-level icons.

When one is selected, (usually) there are more specific features / options then available to select that are spread vertically above and below the selected icon. Using the up and down buttons of the D-Pad allows navigation between the different icons.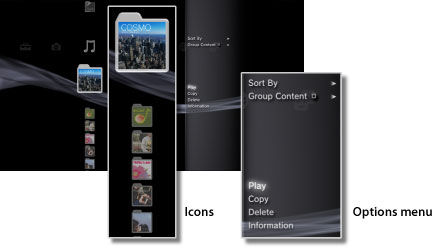 The options for background color and images are different with different implementations of the XMB user interface. On the PSP handheld, the background automatically changes color every month. On newer P2P models (and firmware), it became optional to select a background image just as you would for a desktop on a PC.
The basic features offered by XMB implementations also, of course, varies based on device and software version. On the PSP console, the XMB had top level icons for Photos, Music, Videos, Games, Networking (which allows you to use a web browser), Settings and Extras. The PlayStation 3 (PS3) added Users, TV and Friends to the XMB.
XMB offers a degree of multi-tasking. For example, with the PSP, using the Home button while playing music would allow you to browse photos without killing the music.
After causing early implementation problems, in-game XMB features were added to the PS3 properly with firmware version 2.41. It was a requested feature by those who admired the in-game blade/dashboard available on the Xbox 360 console.
XMB proved to be a successful user interface for Sony products, including some of its HDTV line, Blu-ray players, digital cameras, camcorders, mobile phones, PS3 and the PSP handheld. It has, however, not made it through to the next generation Sony portable console, the PlayStation Vita, which instead uses a user interface called
LiveArea
, featuring multi-touch support.
Synonyms