PSPgo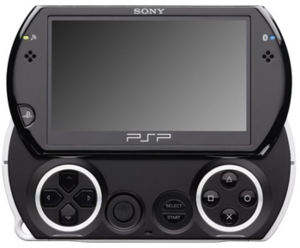 The PSPgo is Sony's latest addition to the PlayStation Portable line, and the first to remove the long heralded proprietary UMD drive.

The PSPgo also adds a new slider design, strips the UMD drive and has everything running off 16GB internal flash memory. The handheld is "50% smaller and 40% lighter than original PSP-1000." The handheld also integrates Bluetooth. Users will also have the ability to download music and movies directly from the PlayStation Network.

A few of the new apps coming with the PSPgo are "Media Go" and "Sense Me." Media Go replaces the current "Media Manager" and integrates easier with the PlayStation Store. Sense Me will "use a 12-tone recognition system to analyze your PSP music library in order to deliver playlists based on moods you select."

The console is set to launch on October 1st in the UK, NA, Australian and Japanese markets, but has faced stiff criticism already (see: related news).

The handheld will cost much more than the current PSP models (1000-3000) at $250 USD and GBP 224.99.

Beginning October 1st as well, Sony will be launching PSP Minis, small games (100MB and under), that looks like direct competition to Apple and iPhone App Store. Sony says their will be 50 titles available by the end of the year.

Additionally, the PSP will get a "Digital Reader" by December, that will allow users to read comic books on their handheld from Marvel.


Related News
Sony drops plan for UMD conversion program for PSPGo at launch
- Sony Computer Entertainment America (SCEA) has confirmed to Kotaku that PlayStation Portable (PSP) owners will not be able to exchange their games on Universal Media Disc (UMD) media to PSPGo digital copies before the launch of PSPGo next week. The PSPGo does not feature a UMD drive, and relies on Internet purchases to download games that can be installed on the system.
(25 September 2009)
Upgraders to PSPgo will receive 3 free games
- Sony has announced today that any owner of UMD games who want to upgrade to the new UMD-less PSPgo will receive three free games via digital download if they choose to do so.
(24 September 2009)
Sony goes all out at GamesCom: Slim PS3, Firmware 3.0, price cuts, VOD, PSP Minis
- Sony introduces PSP Minis.
(18 August 2009)
Sony E3 summary: Motion control system, PSP Go! and Final Fantasy
- First off was the announcement of the worst kept secret PSP Go! updated handheld. Kaz Hirai even made a joke that one of the company's nickname for the device was "The worst kept secret of E3."
(2 June 2009)
Guides relating to the PSP (not specifically PSPgo):
Convert DVD video for iPhone, iPod (Classic, Touch, Nano), Zen, PSP and more
Convert DVD video to files for PSP with CloneDVD Mobile
Convert video files to MP4 for PSP
Stream multimedia files to PSP without encoding
How to encode files for the PSP with Nero Recode
For more information on the original PSPs, check their entries in our
Hardware Section
.
PlayStation Portable
PlayStation Portable Slim and Lite
Synonyms
Related glossary terms
Related software tools
CloneDVD mobile

(Shareware)

CloneDVD mobile converts your DVD movies quickly and easily into a format that your mobile equipment (Sony PSP, Apple iPod Video, iAudio X5, Creative Labs ZEN Vision, etc) can play.

PSP Movie Creator

(Adware)

PSP Movie Creator helps you to convert DVD movies and various video formats to Sony PSP directly.

PSP Video 9

(Freeware)

PSP Video 9 is a free PSP (Playstation Portable) video conversion and management application.

PSP Video Manager

(Freeware)

PSP Video Manager helps you to import PSP MPEG4 files to your PSP.

PSPad

(Freeware)

PSPad is a universal freeware text editor.

PSPWare

(Shareware)

PSPWare integrates your Sony PSP (PlayStation Portable) with your Windows PC, simply, effectively and non-intrusively!

SUPER

(Ad-supported)

SUPER. Simplified Universal Player Encoder & Renderer. A GUI to ffmpeg, mencoder, mplayer, x264, ffmpeg2theora & the theora/vorbis RealProducer plugIn.