DualShock 2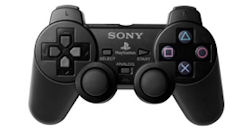 The DualShock 2 controller was bundled with the Sony PlayStation 2 (PS2) console originally released in 2000.

DualShock 2 did not change that much compared to the original DualShock Analog Controller. It also retrained backwards compatibility with the original PlayStation console. It was initially bundled with PS2 consoles in black, though the controller was available in many more colors as time went on.

The DualShock 2 was an attempt at improvements over the DualShock. The accuracy of the analog stick was improved, and they were noticeably stiffer to move and manipulate than with the predecessor.

A couple of years into the PlayStation 3's life cycle, DualShock 3 was launched.