E64

If an Xbox 360 console displays an E64 error on screen, it represents a general hardware failure. The on-screen message will prompt a user to contact Microsoft Customer Support to report the error, and maybe get it fixed on warranty depending on the situation. The E64 error is generally accompanied by a single blinking red light in section 4 of the ring of light on the console, as shown in the picture.

There are several reported causes of this problem. Some of the less severe causes can include a bad SATA cable connecting the DVD-ROM drive to the console motherboard. Also, this error is known to occur at times when the DVD-ROM drive tray has not been fully closed on boot. Some more severe reasons may be a bad update (did you get this error after applying an update?) or that there is a problem with the firmware chip on the DVD-ROM drive.

This error is seen often when users flash their own modified firmware to a DVD-ROM drive and something goes wrong.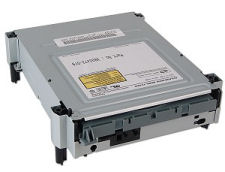 A user with warranty should contact Microsoft Customer Support about this problem. However, please note that if you opened your console to modify your DVD-ROM drive, you have no warranty. In that case, some troubleshooting might help. If this problem came after flashing the drive, attempting to restore the original firmware (if possible) might be a good idea. Connecting the DVD-ROM to the board with a different SATA cable might also help (if this works, try to locate a small SATA cable because there is little room in the case) and see if the problem goes away.

An E64 error is generally accompanied by an error code of 1000. To get an error code from an Xbox 360 console that is displaying an E64 error (or 3ROL) you simply press and hold the "sync up" button (used to connect wireless controllers) and then press the Eject button for the DVD drive. This will bring up the first digit of the error code (usually it is one light blinking red, which represents 1, please note that four lights blinking red represents a 0, not 4). With the sync up button still held, press the Eject button again and you get the second digit. Do this twice more to get the full 4 digits of the error code.

For more information on the error code you receive, or on Xbox 360 hardware problems in general, read this Xbox-Scene forum thread.