3D PC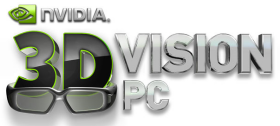 3D PC is a specification being pushed by NVIDIA along with many other industry players. The argument is made that a computer equipped with hardware to make it 3D-compatible is potentially much more useful than console games, and indeed while Sony was touting new PlayStation 3 3D titles at E3 2010, a growing selection of PC games could already be played in 3D.

What is a 3D PC? A 3D PC is a desktop or notebook package that meets the following conditions...


Includes a pair of 3D active-shutter glasses.
A 120Hz 3D-capable display in the form of a desktop LCD monitor, a 3D projector, a 3D TV, or a notebook PC with an integrated 3D-capable LCD.
A discrete graphics processor that is capable of delivering high definition imagery to the 3D display
Among the partners NVIDIA has enlisted in pushing 3D PCs are Alienware, Asus, Dell, Microsoft, Toshiba and more to offer the products. Additionally, web stores are also adding 3D PC categories to sell products that meet the three requirements.
As of June 2010, NVIDIA counted 425 PC Games that are 3D-compatible, while there also have been many official and unofficial modifications made to existing titles to provide them with a 3D effect. Blu-ray hardware combined with compatible software such as
Cyberlink
's line-up also provides a full Hollywood 3D experience the 3D PC pushers have argued.
Additionally, camera manufacturers including Sony and Fujifilm are to offer 3D digital consumer cameras to the market, which a PC can be used to edit and view.