Nintendo DSi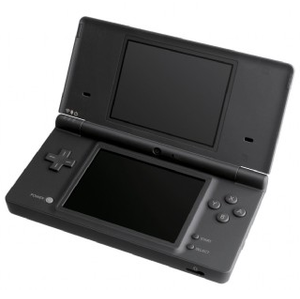 The Nintendo DSi is the latest addition to the DS family, following the DS (fat) and DS Lite.

The major changes to the handheld are the removal of the GBA slot, and the addition of two interactive digital cameras. The DSi also adds an online Nintendo DSi Shop and an SD memory card slot for downloadable content and movies and music.

DS stands for dual screens, one of which is touchscreen.

The updated handheld was released in Japan on November 1st, 2008 and later in the EU on April 3rd, 2009 and finally in North America two days later.

Overall DS, Lite and DSi sales are over 110 million, with about 15 million of those sales expected to be from the DSi.



Playing Games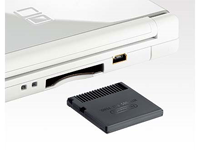 For games, the DSi still uses cartridges just like all of its predecessors but they have been redesigned and are much smaller and thinner and can hold more data.
Unfortunately for Nintendo, because they still use cartridges,
roms
are a big threat. "Dumps" of these games can be found circulating on the Internet and so far there has never been a protection that has stopped hackers from making full game images of games and releasing them. Many believe the new DSi was created for
DRM
purposes, however DSi flash carts are available and work just as easy as before
Features
The addition of cameras have added new dimensions to gameplay as well as "fun factor" and sales continue to grow.
Nintendo is home to many huge franchises as well, most notably
Mario
,
Zelda
and
Donkey Kong
and has used the everlasting popularity of those franchises to score hit after hit for the console. The highest selling game,
Nintendogs
, has moved 30 million units since its release.
Nintendo DSi in the news
DSi sales pass 3 million in Japan
- According to figures published by Enterbrain, Nintendo's DSi handheld console has sold more than 3 million units in Japan since its launch in...
(6 August 2009)
DSi sales break April record
- According to NPD's recent April US sales figures, the Nintendo DS family set a new hardware record for the country with 1.04 million units sold...
(15 May 2009)
Nintendo launches DSi, DSi shop in Europe
- The much anticipated DSi handheld console has launched in Europe today, and with it comes the launch of the DSi Shop. There are five games...
(3 April 2009)
DSi sales in Japan top 500,000 for the month
- According to recent data from Enterbrain, Nintendo's latest handheld, the DSi, sold 535,379 units in Japan for the month of November, its first...
(2 December 2008)
All DSi software will be region-locked
- Nintendo has confirmed to Eurogamer that any new software created for the new DSi handheld will be region-locked and that NA, EU, or J software...
(7 October 2008)
Nintendo announces DSi in Japan
- Nintendo has officially confirmed the launch of the DSi, an upgrade to the current DS handheld line
(2 October 2008)
Synonyms
Related glossary terms