Versatile Multilayer Disc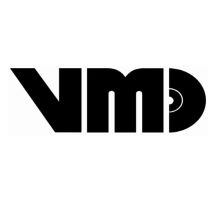 Versatile Multilayer Disc, or VMD, is an optical disc format dveloped by New Medium Enterprises, Inc. (NME) for use in their HD VMD movie format. HD VMD is intended to be a high definition replacement for DVD, but so far has gained little momentum outside of India, where a market for players and (local) movies has gained some momentum.

Unlike the more popular Blu-ray format, VMD is based on additional capacity (layers) using a red laser drive based on standard DVD technology. Blu-ray uses a more expensive blue laser, and requires much greater precision, resulting in a corresponding increase in manufacturing costs for both drives and discs.


HD VMD Capacity
Rather than improving the laser, VMD adds layers beyond the standard 2 used for DVD-Video.
NME
claims VMD discs can include up to 20 layers, for a theoretical maximum size in excess of 100GB. However, this claim has yet to be tested. Currently discs that store approximately 20GB (4 layers). By comparison, Blu-ray allows up to 25GB for a single layer disc or 50GB for dual layer.
Throughput
VMD is designed for higher throughput on standalone video players than older DVD technology. This is necessary in order to deliver the 1080p video and possibly future lossless audio commonly used in Blu-ray. Video throughput of up to 40Mbps (40 Megabits or 40 million bits per second). This is equivalent to Blu-ray, and far superior to standard DVD-Video's 9.8Mbps.
Manufacturing Costs
Unlike Blu-ray discs, which require completely different assembly lines to manufacture than standard DVDs, VMD is similar enough to standard DVD media that manufacturing operations can be upgraded for VMD at a much lower cost. Likewise, by using lower cost (already available) red lasers, the cost of manufacturing drives is also much lower. The first public demonstration of VMD playback used a regular DVD-ROM drive to read a dual layer disc. The company reports a computer drive is being developed for reading 4 layer VMD discs.
For more details on the HD VMD movie format, make sure to read its
Glossary entry
.
---
HD VMD Timeline (as of 3 March 2008)

4 February 2007 - New Medium Enterprises to offer HD VMD format
New Medium Enterprises, Inc. is set to offer up yet another disc format to the growing market for high definition video content. HD VMD is a red-laser based format that offers capacities of 9GB and 20GB (two layers and four layers respectively) and supports full 1080p HD content.... (Read More)
24 February 2007 - HD VMD to be shown at MEDIA-TECH
As well as Blu-ray Disc and HD DVD, New Medium Enterprises' (NME) HD VMD will shown at the 2007 MEDIA-TECH conference. The company announced that that Dr. Eugene Levich, CTO of NME, has been invited to speak about the company's High Definition Versatile Multilayer Disc (HD VMD) at the conference.... (Read More)
28 February 2007 - HD VMD gets U.S. distribution deal
New Medium Enterprises has gotten its first distribution deal in the United States with PC Rush. The deal will see PC Rush distributing HD Versatile Multilayer Disc (VMD) players to the U.S. market.... (Read More)
27 October 2007 - HD VMD is coming
New Medium Enterprises has announced it will be launching its HD VMD Multilayer Player in India this week in hopes that the the format will become a competitor to Blu-ray Disc and HD DVD.... (Read More)
28 November 2007 - HD VMD is coming to the US
It looks like the first shipments of HD VMD set-top players to hit the U.S. will be courtesy of online retailer PC Rush. They've apparently ordered 10,000 units that they'll start selling in December.... (Read More)
13 January 2008 - HD VMD shipping in U.S.
New Medium Enterprises (NME) announced at the Consumer Electronics Show in Las Vegas last week that HD VMD players would be shipping to the United States.... (Read More)
Synonyms
Related glossary terms