Open Handset Alliance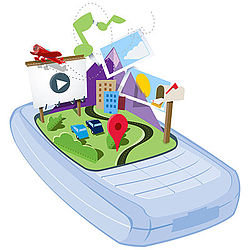 The Open Handset Alliance (OHA) is a group of 84 mobile carriers, handset makers, semiconductor companies and software companies that develop and control open standards for mobile devices, most notably Android.

A few of the founding members include Google, Motorola, eBay, Qualcomm, NTT DoCoMo, Sony and T-Mobile.

The alliance began in late 2007 and the first SDK for Android was released the same month.

Android now competes with Apple's iOS, RIM's BlackBerry and Microsoft's Windows Phone.

The members are (listed in no order):


KDDI Corporation
NTT DoCoMo
Sprint Nextel
T-Mobile
China Mobile
Telecom Italia
Telefónica
Ascender Corporation
eBay
Google
LivingImage
Myriad
Nuance Communications
PacketVideo
SkyPop
SONiVOX
Aplix
Noser Engineering
The Astonishing Tribe
Wind River Systems
Audience
Broadcom Corporation
CSR Plc.
Intel Corporation
Marvell Technology Group
Nvidia Corporation
Qualcomm
Synaptics
Texas Instruments
HTC
LG
Sony
Motorola Mobility
Samsung Electronics
Vodafone
Softbank
Borqs
Teleca
AKM Semiconductor
ARM
Atheros Communications
ST-Ericsson
ASUSTek
Garmin
Huawei Technologies
Sony Ericsson
Toshiba
Dell
China Unicom
SVOX
Acer
MIPS Technologies
Sasken Communication Technologies Limited
ZTE Corporation
NXP Software
Access
MediaTek
VisualOn
China Telecommunications Corporation
Telus
Bouygues Telecom
Cooliris
MOTOYA Co., Ltd.
OMRON
Accenture
L&T Infotech
SQLStar International Inc.
Wipro Technologies
Cypress Semiconductor Corporation
Freescale Semiconductor
Gemalto
Renesas Electronics Corporation
Via Telecom
Alcatel Mobile Phones
Compal Communications
Foxconn
Haier
Kyocera
Lenovo Mobile Communication Technology Ltd.
NEC
Sharp Corporation
The Alliance continues to add members.
Synonyms
Related glossary terms