PlayStation Vita

PlayStation Vita (or PSVITA) is a handheld portable games console developed by Sony Corp. to replace the PlayStation Portable (PSP) handheld released in 2004.

The PSVITA has a similar appearance to the PlayStation Portable, but has many significant hardware and software changes / improvements over its predecessor. While the PSP utilized the Universal Media Disc (UMD) optical disc format for software (games), the Vita uses an NVG Card, a type of proprietary flash card format similar to the cards used with the Nintendo 3DS.

The handheld touts a 130mm (5-inch) organic light-emitting diode (OLED) touchscreen display. It features two analog sticks (compared to the PSP's single analog control), a D-Pad, the four iconic PlayStation buttons (triangle, square, X and circle), L and R shoulder buttons, a "PlayStation" button, Select and Start.

It has front and read cameras, a rear touchpad, microphone and stereo speakers.

For connectivity, the Vita supports WiFi, Bluetooth and 3G (optional) connectivity. 3G versions of the handheld come with GPS functionality.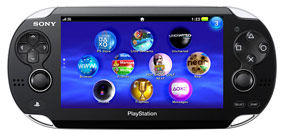 Driving the Vita is a quad-core
ARM Cortex-A9
processor and a
SGX453MP4+ GPU
. The battery powering the device cannot be removed as it can with the PSP.
Vita also differs considerably with its system software. While both the PS3 and PSP use the
XrossMediaBar (XMB)
user interface, the Vita uses a multitouch
LiveArea
interface instead. The graphical UI acts as a hub page for users to switch between different features, such as gaming or integrated social networking features.
The name Vita was chosen for the handheld console because it means
"Life"
translated from Latin. The device will be launched in the fourth quarter of 2011.
Synonyms