Video Standards Council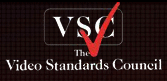 The Video Standards Council - or VSC - is a UK body that is responsible for restrictions on the sale of video games and other content in the UK.

In 2012 the VSC was appointed by UK Government to act as the designated body responsible for the age rating of video games supplied in the UK.

It has established Staff Training Guidelines for retailers and others responsible for supplying videos, DVDs and video games to the public. The Guidelines have been approved by the trading standards authorities and place an emphasis on responsible trading and in particular the duty not to supply age-restricted products to persons below the specified ages.

In its actions, the VSC is accountable to the Department of Culture, Media and Sport.

The VSC was part of negotiations to create the Pan-European Game Information (PEGI) system.
Synonyms