MultiMediaCard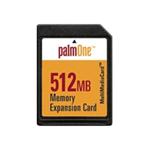 A MultiMediaCard (MMC) is a flash memory card standard developed originally by SanDisk, Siemens AG. The card is based on Toshiba's NAND-based flash memory. It competed mainly with CompactFlash, offering a smaller form factor. MMC is used mainly as a storage device for portable devices such as mobile phones and digital cameras. While MMC is being largely replaced by Secure Digital (SD) cards, modern equipment often contains an SD slot that can additionally read MMC cards if supported by the software Operating System.

Currently, MMC cards are available in (announced) capacities of 4GB and 8GB. SD card have become much more popular for use with portable device now, but in cases even modern mobile phones may choose MMC over SD due to its small form factor (although microSD is also gaining considerable ground in the market. MMC is technically an Open Standard as any manufacturers can produce products based on it that can host MMC without any royalty costs. In order to develop actual MMC cards themselves, a membership was required with the MMC Association.

MMC products also are marketed in a variety of different brands.

RS-MMC --> Stands for Reduced-Size MultiMediaCard, introduced in 2004 with a smaller form factor.

DV-MMC --> Stands for Dual-Voltage MultiMediaCard, a substantial change to MMC that introduced dual-voltage cards.

MMCplus --> Introduced in 2005, MMCplus runs at higher speeds. Also marketed as "MMCmobile".

MMCmobile --> Introduced in 2005, MMCmobile runs at higher speeds. Also marketed as "MMCplus".

MMCmicro --> Similar to the microSD format, this small form factor MMC card is thinner and smaller than RS-MMC.

miCard --> Introduced in 2007, this version of the card technically has a maximum capacity of 2 Terabytes (2TB).

SecureMMC --> SecureMMC is to provide a secure removable storage to secure applications using as MMC card.
Synonyms