E71

An Xbox 360 console might display an E71 error suddenly. This error is associated with software updates. Usually an E71 error would be accompanied by a single blinking red light in the 4th section of the ring of light on the front of the console. The error message on screen would display "E71" in large font, and instruct the user in multiple languages to contact Microsoft Customer Support about the error.

An E71 error is believed to be caused by an error within the Xam.xex file, which is a serious error since it will fail to load the Dashboard as a result. This error sometimes can show up after a bad update was applied to the console, although it is rather rare in this case. Nevertheless, this is probably covered by the user warranty and may have to be sent back to Microsoft to be repaired properly (if the possible solution below does not work).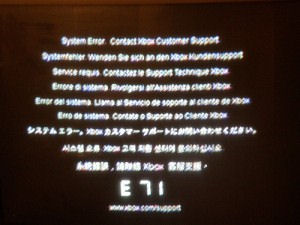 Pic Source
One possible quick solution to the problem is to attempt a
Console Reset
. Turn off the unit and then press and hold the
"sync up"
button (the button you press when you want to add a wireless controller). With the sync up button held, press the power button once to turn on the console. Continue to hold the sync button until the console has booted up completely. Failed updates should be wiped from the system during the boot-up proceedure. If you still have E71, then unfortunately for you the console needs to be repaired by Microsoft.
The E71 error is associated with the error code
1013
. To get an error code from an Xbox 360 console that is displaying an E71 error (or 3ROL) you simply press and hold the
"sync up"
button (used to connect wireless controllers) and then press the
Eject
button for the DVD drive. This will bring up the first digit of the error code (usually it is one light blinking red, which represents 1, please note that four lights blinking red represents a 0,
not 4
). With the sync up button still held, press the Eject button again and you get the second digit. Do this twice more to get the full 4 digits of the error code.
For more information on the error code you receive, or on Xbox 360 hardware problems in general,
read this Xbox-Scene forum thread
.