Retina Display
Retina Display is the title given by Apple to the display features on the iPhone 4 handheld. The 3.5-inch touchscreen display is manufactured by LG and features a pixel density of 326 pixels per into, or ppi, at a resolution of 960x640. Apple asserts that the pixel density is so high on the retina display, that a human eye is unable to distinguish individual pixels.

By developing pixels a mere 78 micrometers wide, Apple engineers were able to pack four times the number of pixels into the same 3.5-inch (diagonal) screen found on earlier iPhone models. The display features a contrast ratio of 800:1, uses LED backlighting and also utilizes in-plane switching, or IPS, which greatly improves the viewing angle quality of the display.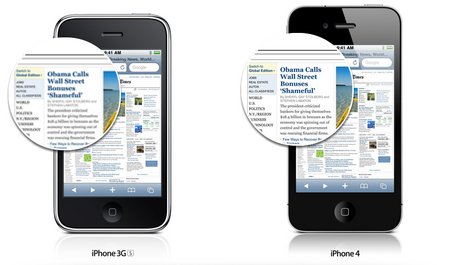 Apple iPhone 3GS vs. iPhone 4 display. Click to enlarge.
After the iPhone 4 was launched, the claim that the display's resolution exceeds the maximum amount of detail that the human retina can process was criticized by some. Apple makes the claim based on the assumption that the handset will be held approximately 12 inches away from the eyes.