microSDHC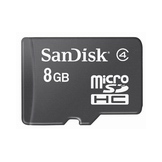 microSDHC flash memory-based cards are high capacity versions of microSD cards. They share the same form factor but are designed to offer higher capacities. A standard microSD card will work fine in a slot compatible with microSDHC, but a microSDHC card won't be recognized by incompatible hardware. Not all portable devices that are sold now with support for the microSD storage format are compatible with the microSDHD variety. microSD can only provide over 4GB storage through microSDHC cards. The capacity currently available on the market goes up to 16GB.

There are a variety of Secure Digital (SD) products available..

Secure Digital (SD) --> Original SD card offering capacities up to 8GB currently.

miniSD --> A smaller form-factor version of the original SD card.

microSD --> Currently the smallest flash memory card on the market.

miniSDHC --> High Capacity version of miniSD card.

microSDHC --> High Capacity version of microSD card.

SD plus --> A form of SD card developed by SanDisk.with USB additions.

Eye-Fi --> An SD card with built in Wifi capabilities of its own.

Gruvi --> A form of SD card developed for content distribution by SanDisk.