MediaGuard 1

MediaGuard 1 is a Conditional Access System developed by Société Européenne de Contrôle d'Accès (SECA), which has since renamed to CANAL+ Technologies SA. MediaGuard is in wide use in Europe and Asia. MediaGuard technology is being used in products developed by the likes of Nokia, JVC, Hitachi, Pioneer, Samsung, Sony, Toshiba and Thompson. By the end of the 1990's, MediaGuard 1 had been fully compromised.

The hacking of MediaGuard 1 was more controversial than the hacking of a Conditional Access System normally would be, as it allegedly was done by MediaGuard's rival, NDS, under the News Corp. unbrella. NDS was found to be in contact with, and funding a pirate site that had something to do with MediaGuard hacking. A team of scientists in Haifi, Israel, according to a lawsuit filed in the US district court for the Northern District of California, set out to "sabotage Canal Plus technological security measures engineered into its smart cards." MediaGuard protected content of News Corp.'s rival broadcasters.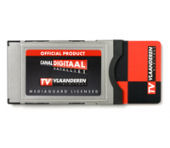 The cost of breaking the encryption was estimated to be around $5 million. The team allegedly took 6 months to unravel a code that was long-thought to be unbreakable. According to the lawsuit brought by Canal+, which sought $1 billion in damages, the team of Scientists managed to crack the UserROM from the Smart Card, and packed the data into a file called Secarom.zip. The file was e-mailed to an NDS team in California with instructions to post it on the Internet. The Canal+ code was posted on DR7.com.

By the year 2000, markets were flooded with counterfeit cards. In 2002, ITV Digital complained that over 100,000 hacked cards were available in Britain, providing access to premium channels for non-subscribers. ITV took particular disgust in comments made by Sky's chief executive, Tony Bal to investors. He allegedly commented that: "ITV Digital/DTT is completely pirated, a joke. For $7 you can buy a card for all channels."

Canal Plus later dropped the action when News Corporation agreed to buy Canal Plus's struggling and heavily pirated Italian operation Telepiu.