miCard

miCard stands for Multimedia Interface Card. It is a flash memory card accepted by theMultiMedia Card Association (MMCA). It was announced in 2007 with the first available on market expected to offer 8GB of maximum capacity. Technically, the miCard will be able to gain capacity up to 2 terabytes (TB) of data. The technology is developed by twelve Taiwanese companies that stand to save millions of dollars in royalties that would otherwise have to be paid to use other flash memory products.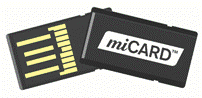 miCard sports compatibility with existing USB Ports, SD card readers and MultiMediaCard readers by use of an adapter. miCard reportedly can offer transfer speeds of 480 Mbit/s, and there are further plans to increase data throughput overtime.

MMC products also are marketed in a variety of different brands.

RS-MMC --> Stands for Reduced-Size MultiMediaCard, introduced in 2004 with a smaller form factor.

DV-MMC --> Stands for Dual-Voltage MultiMediaCard, a substantial change to MMC that introduced dual-voltage cards.

MMCplus --> Introduced in 2005, MMCplus runs at higher speeds. Also marketed as "MMCmobile".

MMCmobile --> Introduced in 2005, MMCmobile runs at higher speeds. Also marketed as "MMCplus".

MMCmicro --> Similar to the microSD format, this small form factor MMC card is thinner and smaller than RS-MMC.

MultiMediaCard --> Original MultiMediaCard format.

SecureMMC --> SecureMMC is to provide a secure removable storage to secure applications using as MMC card.
Synonyms
Multimedia Interface Card