DualShock 3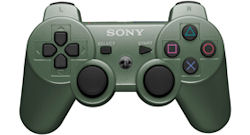 DualShock 3 is a controller used with the PlayStation 3 (PS3) games console.

Like the original DualShock, the DualShock 3 was not originally bundled with the console it is intended to be used with. The PS3 launched with the Sixaxis controller, which had motion sensitive capabilities but no vibration, which was the central feature for the DualShock line of controllers.

Sony had explained the lack of vibration in the Sixaxis controllers as being the result of concerns about how the vibration would affect the motion sensing abilities of the controller. Others speculated that it might have more to do with Immersion Corporation, which successfully sued Sony for patent infringement related to their controllers.

In 2008, Sony announced that it was officially discontinuing the Sixaxis controller and bundling the DualShock 3 with all new PlayStation 3 (PS3) consoles instead. It retains the motion sensing abilities of the Sixaxis while bringing the rumble of the DualShock line. The controller is noticeably heavier than the Sixaxis. It also connects wirelessly to the PS3 through Bluetooth.

It is powered by a Lithium-Ion battery that can provide up to 30 hours of gameplay on a full charge. It charges through a USB cable and can draw power directly from the console to be used while the battery is charging, and will use the wired connection instead of Bluetooth when connected. The battery is removable and replaceable.

It requires PS3 firmware 2.0 and higher to function properly with PS3 titles and compatible PlayStation and PlayStation 2 games. Up to seven DualShock 3 controllers can be used at the same time with the PS3 console.

Like the Sixaxis, it is possible to use the DualShock 3 controller with the PSPGo handheld gaming system, but it also requires a PS3 to sync the controller with the portable console.