Triple play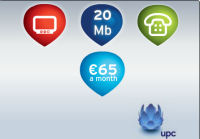 The term "Triple Play" refers to the bundling of three services into one package from a provider and delivered using the same delivery technology.

Take a cable company as an example. It has a cable network in a city available to most of the population. The cable is used to provide broadband Internet services, but also has the bandwidth available to offer a television subscription service and VoIP voice telephone services.

All three services are powered by the same cable and often sold at a discount by the provider as an incentive to take all available services.

Cable providers in particular have had an advantage in this area. A telephone company on the other hand might have more houses connected to its phone network, but might only be able to provide a limit Digital Subscriber Line (DSL) Internet service along with the voice call service, and does not have the technical means to deliver hundreds of television (including HD) channels simultaneously.

In recent years, the growth of next generation mobile communications networks such as Mobile WiMAX and Long-Term Evolution threaten to throw the industry on its head again as they intend to evolve to levels of bandwidth capable of providing the likes of IPTV services to homes that are in rural areas where it is not economically viable for cable companies to expand to.