GDC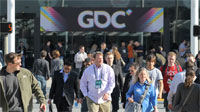 The Game Developers Conference (GDC) is the largest annual gathering of video game developers. Originally known as the Computer Game Developers Conference, the first meeting was organized in 1988 by Chris Crawford.

It is now organized by UBM TechWeb, and features tutorials and lectures given by gaming industry professionals on topics such as, design, programming, audio, visual arts and business and management.

The GDC also holds networking events and award shows such as the Game Developers Choice Awards and the Independent Games Festival. The Game Developers Choice Awards is the only peer-based awards show in the industry and the Independent Games Festival is the first and largest competition for independent games.

UBM TechWeb has added several events to the meetings in recent years such as GDC mobile, focusing on development of games for mobile phones and Game Connection@GDC, a partnership with Game Connection to offer a matchmaking service for games developers and publishers.

Several spin-off events have also been organized by UBM TechWeb such as the first Game Developers Conference Europe which was held in 2001 in London at the European Computer Trade Show.
Synonyms
Game Developers Conference