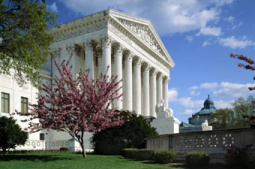 As reported during the weekend, the Supreme Court started examining legislation from California that would make the sale of violent video games to minors illegal.
The
Schwarzenegger vs EMA
case landed in the highest court in the United States and the reaction of the court can only fairly be described as very critical. Justice
Antonin Scalia
in particular had a lot of questions to ask the California attorney general, who was arguing for the law previously declared unconstitutional by a lower court.
"I am concerned with the First Amendment, which says Congress shall make no law abridging the freedom of speech,"
Scalia said
.
"It was always understood that the freedom of speech did not include obscenity. It has never been understood that the freedom of speech did not include portrayals of violence. You are asking us to create a whole new prohibition. What's next after violence? Drinking? Movies that show drinking? Smoking?"
Scalia also took issue with the use of the term
"deviant violent videogames"
used by proponents of the law.
"As opposed to what? A normal violent videogame?"
asked Scalia.
"Some of the Grimm's fairy tales are quite grim, to tell you the truth... Are you going to ban them too?"
he added.
President Obama's Supreme Court picks, Justice
Elana Kagan
and Justice
Sonia Sotomayor
, also pressured California attorney general,
Zackery Morazzimi
.
"One of the studies, the Anderson study, says that the effect of violence is the same for a Bugs Bunny episode as it is for a violent video. So can the legislature now, because it has that study, outlaw Bugs Bunny?"
Sotomayor said
.
Kagan pressed Morazzimi for any studies that show content in games is more harmful to minors than films. In response, Morazzimi cited research carried out by
Douglas Gentile
that was presented as evidence in the case, but considering Gentile is a campaigner against videogames, blaming them for addiction and aggressive behavior in players, and also the recipient of criticism for the methodology he uses for his research, it's likely the court won't put much weight behind it.
The Justices did also question EMA attorney
Paul Smith
too, referring to some controversial title such as 2003's
Postal 2
. Smith argued that gaming is a relatively new medium, and historically a new medium is always met with overreaction.
"We have a history in this country of new media coming along and people vastly overreacting to them, thinking the sky is falling, our children are all going to be turned into criminals,"
he said.
Justice Alito then pressed him whether his argument was that there was nothing at all a state could do to prevent a minor from getting access to violent games, while Chief Justice
John Robbers
argued that any 13 year old could bypass parental restrictions in about five minutes.
Still, the court was easily unimpressed at best with the case being presented by California. At one stage, Kagan asked if it would make a difference if a game portrayed a
"Vulcan being maimed
" as opposed to a human. Apparently yes, it would make a difference because,
"the act is only directed towards the range of options that are able to be inflicted on a human being."