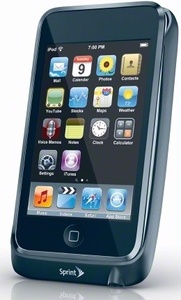 Starting next week,
Sprint
customers can purchase a
Zte Peel
, which will add 3G capabilities to the
Apple iPod Touch
.
The Peel attaches to 2G and 3G Touches.
User slide their Touch devices into the the Peel and instantly connect to Sprint's 3G data network by pressing a button.
There are many texting applications in the App Store as well as
Skype
so the iPod Touch can be used as a bulky smartphone of sorts, as long as you are willing to pay $30 a month for 1GB of 3G data
bandwidth
through Sprint.
The Peel itself costs $80.
"ZTE PEEL unlocks the wonderful user interface and Web experience of Apple's popular iPod touch and transforms it into a powerful mobile device using the Sprint 3G network,"
adds
Fared Adib, vice president-Product Development.
"When combined with Sprint's 3G network, ZTE PEEL turns an iPod touch from a portable device limited by the availability of Wi-Fi to a mobility tool free to browse the Web and use applications anytime, anywhere while on Sprint's 3G network."