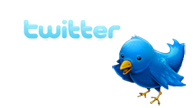 According to multiple
sources
,
Google
offered up to $4 billion for microblogging sensation
Twitter
earlier this year, but the offer was turned down.
Originally, Google offered $2.5 billion, which Twitter execs called "insulting."
As recently as 3 months ago, Google upped the bid to $4 billion, which was turned down, as well.
Each of the sources suggested that
Microsoft
bid on the service, also, although the software giant's offers are unknown.
The sources also suggested, however, that if Twitter was to really put itself up for sale, both companies would bid aggressively against each other.