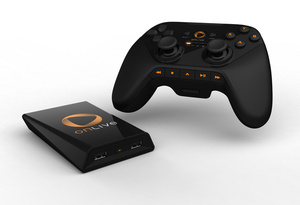 OnLive
, the cloud
streaming
games service, has announced today the launch of the
MicroConsole
instant-play system, with pre-orders starting now for a December 2nd release.
Users can play video games from the OnLive catalog, on their TVs, using the set-top, eliminating the need for downloads or discs.
The system will sell for $99 and include a wireless controller and a free game.


"The OnLive Game System marks the start of a new era for video games and home entertainment,"
says Steve Perlman, founder and CEO of OnLive,
via IW
.
"Not only is the OnLive Game System the fastest, simplest way to play, watch, and test-drive top-tier games instantly on the living room big screen, it also opens the door to a new world of options for gaming and entertainment -- from media-rich social networking and massive spectating to game portability across TV, PC, Mac, and mobile devices."
OnLive has 35 games available as of now, including
Assassin's Creed
II,
Mass Effect
2,
Batman: Arkham Asylum
,
Just Cause
2 and NBA 2K11.
Games can be demoed for free, then rented for 3-5 days. Rentals cost $4-$9. If you want to own the game, you can purchase a
Full PlayPass
, which can range from $5-$50 depending on how new and popular the game is.
For more info on how the service works, check here:
OnLive Cloud Gaming