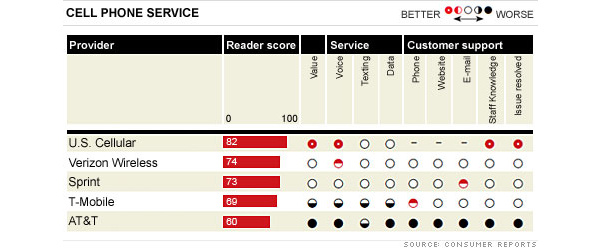 According to the latest Consumer Reports survey, AT&T has received the all-around worst scores in customer satisfaction for 2010, ranking it last behind US Cellular, Verizon, Sprint and T-Mobile.
AT&T got the lowest scores in eight out of the nine categories, and tied for worst in the last category.
The categories included overall value, voice service, data service, texting services, phone support, staff knowledge, and
resolution
of issues, and other customer support issues.
AT&T scored a 60/100, putting it 9 points behind T-Mobile, and 22 points behind the leader, US Cellular.
The U.S.' second largest carrier scored a 66 in 2009.
Consumer Reports says
"AT&T is now the worst carrier." It is also the only carrier to see its numbers drop significantly from last year.
Apple iPhone
owners were particularly displeased with AT&T, giving much lower scores than smartphone owners on other carriers.
AT&T responded:
"We take this seriously and we continually look for new ways to improve the customer experience."